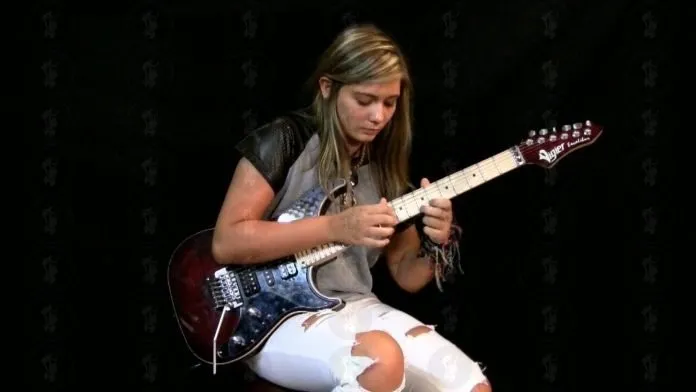 This young guitarist goes by the name of Tina S. She started a YouTube channel back in 2007 and began uploading videos of herself playing extreme guitar solos. Since opening her YouTube channel she has received over 162 million views across all of her videos.
Tina's full name is "Tina Setkic". She was born on April 7th, 1999 in Paris, France. The French guitarist has grown a large fan base on her YouTube channel because of her sensational guitar playing style and skill. She performs very technically difficult solos from well-known guitar masters such as Van Halen, Iron Maiden, Pink Floyd, and even classical composers such as Beethoven. In the video below Tina is just 17 years old.
Tina is a master of a guitar playing style called "Shredding". Wikipedia defines guitar shredding as the following, "Shred guitar or shredding is a virtuoso lead guitar solo playing style for the guitar, based on various advanced and complex playing techniques, particularly rapid passages and advanced performance effects."
From the age of 13, Tina started to focus on electric rock performances. Around the same time, she began uploading videos to social media which received comments from notable guitarists and even guitar manufacturers. Tina developed a relationship with guitar manufacturer "Vigier Guitars" and her playing has been publically noticed by Wolfgang Van Halen, an American musician who is currently the bassist for Van Halen.
She attended formal guitar studies at the age of 6 where she began classical training. By just 9 years old she was already performing advanced solos such as the lengthy but wonderful classic guitar solo from "Hotel California" by the Eagles.
Her incredible skill level for her age has propelled her into stardom amongst guitar fans and music fans across the world. Although Tina has recently been inactive on her YouTube channel her follows continuously grow from her previous videos, each one becoming more and more popular every day.
During an interview with "theguitarchannel.biz", Tina said, Of course, the making of a buzz on the Internet with the Van Halen solo and the follow-up of the buzz with my second video is very impressive. But for me, I have not yet started my career as a guitarist."
Tina S hasn't uploaded any videos to her YouTube channel for nearly 4 years. No one really knows why and forums including Reddit have speculated it might be because she is focusing on her university studies. Whatever the reason, her brilliant videos are still available on her YouTube channel for you to watch. If you follow her, maybe she will make an epic return video one day, we certainly hope she does.