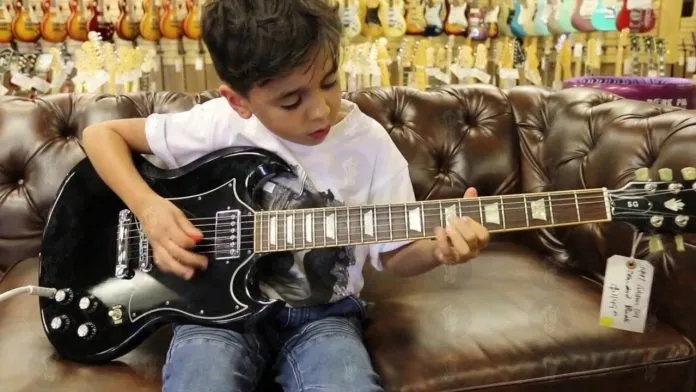 This is Eleven-year-old Jayden Tatasciore from Perth, Australia who started playing the guitar when he was just 5 years old.
He was inspired to take up the guitar after watching a documentary on the AC/DC guitarist Angus Young which he then watched every single day while listening intently to the music and would copy all his moves. His guitar became his life. He loves all things rock and roll including Guns and Roses, Slash, Jimi Hendrix and Metallica.
Guns and Roses were in fact so impressed by his rendition of their iconic 'Nightrain', they shared his video on their social media channels. Although described as quite a shy individual at school, he is a completely different person when he gets his guitar in his hand.
He has performed at various charity events, regularly cameos in an AC/DC tribute band and is a 2018 NAMM show artist. He has even played in the musical 'School of Rock' in Perth.
Jayden wants to become a famous rock star one day and with his persistence and determination, we are sure to be seeing more of him over the years to come.
If you want to see more from this exceptionally talented young guitarist, follow him on Facebook or subscribe to his YouTube channel.