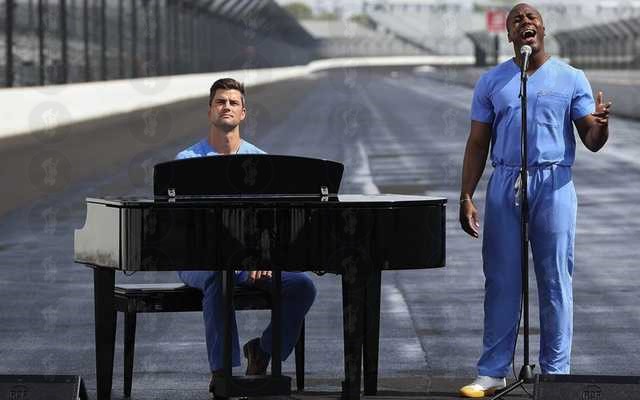 Two singing surgeons called Elvis Francois and William Robinson have been going viral across social media with multiple videos showcasing their incredible musical talents.
Elvis is a trainee spine surgeon and singing sensation based at the Mayo Clinic in Minnesota. He started uploading videos to social media in an attempt to bring some happiness into people's lives during the coronavirus pandemic. This message resonated with people around the world especially during a time where the world was focussing on healthcare in general.
Elvis opened his YouTube channel in April 2018 and has already hit 1 million views across all his videos. In most of his videos, he is performing alongside his doctor colleague William Robinson, who is also a trainee spine surgeon at the Mayo Clinic.
Their performance of "Imagine" received incredible attention across social media. The video was originally uploaded to Instagram where it took off, being watched all around the world. It has now been shared across nearly every social platform due to its popularity.
Their success was more than they bargained for. Within a few weeks of uploading themselves singing they were approached by two people from a record label called Big Machine. The record label wanted to record and release an EP to the public.
The singing surgeon's goal was to entertain and share love through music during a time when people needed it the most. They agreed to the recording of their debut EP and arranged for all the profits to go into the Center of Disaster Philanthropy COVID-19 Response Fund.
William spoke to ABC News in America and said, "We decided to post it as the quarantine had kinda hit its stride and people were inside and…scared and, if nothing else, stir crazy — looking for some hope and comfort,"
The singing duo were also invited to be on The Ellen Show where during the interview with Ellen DeGeneres they explained they were huge fans of the show – and so are lots of their patients.
This is an incredible story of two talented doctors using alternative medicine during a time of crisis. They reached the masses and provided a source of happiness and entertainment to people across the world.
If you want to see more from these two talented doctors subscribe to them on YouTube or follow them on Instagram